We still have a print on demand webstore open for business where you can purchase a variety of apparel, drinkware and a few miscellaneous items.  Click the image of the shirt below to access the site.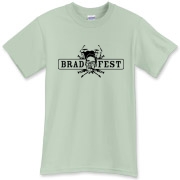 www.printfection.com/bradfest/
There are a couple of other items that are available for sale.
1.  DVD compilation that will include all of Brad's known performance video and a collection of photos.
2.  Bradley Briefs – geniune Bradfest imprinted tighty whiteys.  Wear the Bradfest logo with pride right on your bottom.
Both items are for presale on our wazala.com store which is linked here.