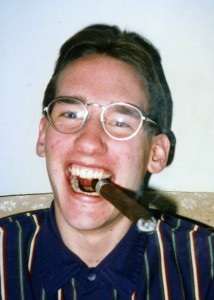 BradFest 2012 took place August 3-4 at the Lake County Fairgrounds in Two Harbors, MN.
Official BradFest 2012 lineup schedule

View BradFest 2012 in a larger map
Moving to the fairgrounds gave the fest the room that was needed to grow, as well as an indoor stage in case of rain, plenty of parking, and on-site camping for attendees, staff, and performers.
While you wait to attend next year, check out the following videos to get sense for the festival.
(Big thanks to Mark Malenius of Malenius Media for his stellar video work and to Red Label for giving permission to use the audio from their song 'That One Song'!)
Bands, brew, pie, belly dancing, robots, samba, 82 pairs of men's briefs…
BradFest is an annual memorial concert that pays tribute to Bradley E. Rozman and raises funds to support young MN musicians.
It is a weekend-long extravaganza that transforms the festival grounds into a magical space where air molecules will vibrate in compelling patterns. Hips shake, pies are eaten (and hurled), and robots and humans alike utter absurd incantations. Life is celebrated, indelible memories are burned into impressionable psyches, and collective nirvana is reached through contagious fits of laughter. Only the foolish, the apathetic, and the timid would dare to miss this event.
Past BradFests have featured a diverse mix of live music with bands from the Iron Range, Duluth, across the state and beyond, including headliners such as Retribution Gospel Choir, Arcwelder, and the legendary Grant Hart (formerly of Hüsker Dü and Nova Mob). The unique blend of BradFest entertainment also includes Brazilian street samba, belly dancing, musical robots, and more. In addition, BradFest features tasty local beer and food, a pie fight, and a silent auction with an assortment of high quality local products, art and crafts.