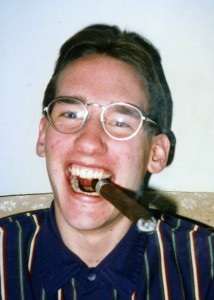 Though we aren't doing a "traditional" BradFest this year, Friends of Brad is gearing up for two fall events in the merry spirit of Bavaria's famous Oktoberfest celebration.
The BradtoberFest BBQ Cook-off will take place at the 218 bar in Virginia, MN on September 28. The event is a grill competition and fundraiser for the Friends of Brad Memorial Foundation that will feature live local music, beer, and all you can eat food.
Local cooks will duke it out for the competition, serving up their best burgers for judging. Also available will be beer, brats, sides such as sauerkraut and, of course, pie!
Tickets are $10 for adults and $5 for children under 12. Featuring music by 3 on a Tree, Adam Hermann of the Slamming Doors and late night entertainment by the Acceleratii.
The BradtoberFest Run/Walk/Crawl will take place in Duluth, MN on Saturday, October 5. The event will connect Duluth's craft beer, music, and running communities, offering participants a unique opportunity to sample local beer and music while traversing a path that links local breweries and beer-centric venues. Proceeds will benefit young musicians, supporting programs such as the Duluth Music Resource Center and FOBMF's scholarship, fellowship, and other charitable programs.
The Run/Walk/Crawl features these participating breweries & pubs: Bent Paddle Brewing Co., Canal Park Brewing Company, Carmody Irish Pub & Brewery, Dubh Linn Irish Pub, Castle Danger Brewery, Borealis Fermentery, Fitger's Brewhouse Brewery and Grille, 7 West Taphouse.
Duluth Mayor Don Ness will welcome participants with an opening toast at Bent Paddle Brewing Co. at noon. Participants will then be treated to craft beer samples and live performances by local musicians at each participating pub.
Later in the evening, a free afterparty will be held at Tycoons featuring live music from BNLX, the Boomchucks, Lion or Gazelle, and Jaze.
Full schedule for the day's events:


11:30 am: registration opens at Bent Paddle Brewing Co.
Noon: Welcoming toast by Duluth Mayor Don Ness
12:15-4 pm: Run/Walk/Crawl, with music and craft beer samples at each stop:
Bent Paddle Brewing Co.: Two Harbors Ukulele Group
Canal Park Brewing: Preston Gunderson
Dubh Linn Pub: Hannah Rey
7 West Taphouse: performance by Jaze, featuring craft beer from Castle Danger Brewing and Borealis Fermentery
Carmody: Tribal Alchemie
Tycoon's: Snöbarn
10 pm: Afterparty at Tycoons (free admission for all; Run/Walk/Crawl Participants get a free drink!). Performances:
 BNLX
, the Boomchucks, 
Lion or Gazelle, 
Jaze.
Registration for the BradtoberFest Run/Walk/Crawl is available until Friday 10/4 online at www.bradtoberfest.eventbrite.com/($25). Late registration will be available on site at Bent Paddle Brewing Co. from 11:30-12:15 the day of the event ($30). Event is rain or shine and tickets are nonrefundable.
Registrants must be 21 years of age or older and bring valid government-issued photo ID to the event in order to participate.
Volunteers are still needed for the event. To volunteer, contact volunteer@bradfest.org
———————-
WHAT IS BRADFEST?
Bands, brew, pie, belly dancing, robots, samba, 82 pairs of men's briefs…
BradFest is a memorial festival that pays tribute to Bradley E. Rozman and raises funds to support young MN musicians.
It is a weekend-long extravaganza that transforms the festival grounds into a magical space where air molecules will vibrate in compelling patterns. Hips shake, pies are eaten (and hurled), and robots and humans alike utter absurd incantations. Life is celebrated, indelible memories are burned into impressionable psyches, and collective nirvana is reached through contagious fits of laughter. Only the foolish, the apathetic, and the timid would dare to miss this event.
Past BradFests have featured a diverse mix of live music with bands from the Iron Range, Duluth, across the state and beyond, including headliners such as Retribution Gospel Choir, Arcwelder, and the legendary Grant Hart (formerly of Hüsker Dü and Nova Mob). The unique blend of BradFest entertainment also includes Brazilian street samba, belly dancing, musical robots, and more. In addition, BradFest features tasty local beer and food, a pie fight, and a silent auction with an assortment of high quality local products, art and crafts.
BradFest 2012 took place August 3-4 at the Lake County Fairgrounds in Two Harbors, MN.
Official BradFest 2012 lineup schedule
While you wait to attend next year (2014), check out the following videos to get sense for the festival.
(Big thanks to Mark Malenius of Malenius Media for his stellar video work and to Red Label for giving permission to use the audio from their song 'That One Song'!)